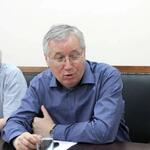 The genocide of the Ossetian people never descended from the political agenda of South Ossetia, said the Sate Advisor to the President Konstantin Kochiev at a meeting of the South Ossetian parliamentary committee on national politics, culture, religion and the media.
According to him, the Parliament of the first convocation paid attention to this issue, later the VI Congress of the Ossetian people adopted a special resolution on the genocide of the Ossetian people, and last year they raised this issue at the 10th Congress, which also adopted a resolution.
"The Ossetian consciousness always preserved the memory of the genocide, and was very attentive to the problem of recognizing the genocide. At the same time, understanding the mechanisms of work of various institutions, including in Moscow, it is necessary to clearly realize that the appeal of the Parliament is not enough. It requires a very intensive information support, numerous events with experts, journalists, so that everyone has an absolutely common perception, and people know about what happened," Kochiev stressed.
In his opinion, the information should reach the Russian expert community, and the point of view should be correct, reflecting real historical events, not one that is often imposed on them from Tbilisi.
"Therefore, I propose to collect not only a package of documents and attach them to the appeal to the State Duma, but also to organize a large series of meetings and events at which as widely as possible to declare the genocide. The commission on the memorialization of genocide allows to create media events and clearly demonstrate our position on genocide. It is also necessary to think over a number of events to perpetuate memory, symbols of our memory associated with this page of the history of South Ossetia, as the Armenian comrades have done. We have to put this issue high on the agenda so that it is known to everyone, and people know that the Ossetians have forgotten nothing, "the State Councilor stressed.