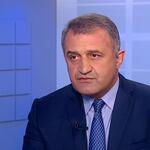 President of South Ossetia, Anatoly Bibilov, called the checkpoint put up by the Georgian police in the area of ​​the village of Uista (Tsnelis) a provocation, as a result of which there is serious aggravation of the situation in the border area.
"It is possible that all this is done to escalate tension. I fully admit that with far-reaching plans, military actions, to subsequently accuse, as usual, South Ossetia and Russia. Most likely, these plans are being developed far beyond outside Tbilisi, "Bibilov said live on Vesti-24, answering questions of Anton Stepanenko, the host of the Vesti at 23:00 program.
He has noted that today the settlement of Uista is completely under the control of the South Ossetian authorities, but the situation has caused concern among the villagers.
Anatoly Bibilov has emphasized that the position of the state remains unchanged - "the checkpoint is illegal, and the Georgian side must remove it."
As previously reported, South Ossetia and Georgia cannot agree on a meeting within the framework of the Incident Prevention and Response Mechanism (IPRM), which discussed the issue of the police post put up by the Georgian side in the village of Uista (Tsnelis).
The technical meeting with Georgia on Monday ended to no avail, negotiations will continue in the coming days.
The Prosecutor General's Office of South Ossetia opened a criminal case on the violation of the state border by Georgian police in connection with the construction of a checkpoint in the area of ​​the village of Uista (Tsnelis).