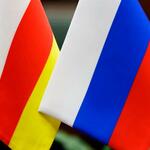 The Agreement on Alliance and Integration between Russia and South Ossetia is of strategic importance for bilateral relations, said Minister of Foreign Affairs of South Ossetia Dmitry Medoev in an interview with the Turkish publication "Cumhuriyet".
"South Ossetia entered into diplomatic relations with Russia on September 9, 2008 after an operation to force Georgia to peace. On September 17, the Treaty of Friendship, Cooperation and Mutual Assistance was signed. And in the spring of 2015, presidents of South Ossetia and Russia signed the Treaty of Alliance and Integration, which involves the formation of a single defense and security space, the pursuit of a coordinated foreign policy and a number of other important aspects of bilateral cooperation," the Minister emphasized.
He has noted that alliance with Russia is the historical choice of the Ossetian people, the relations of our peoples are based on a solid foundation and deep historical roots.
"The Treaty of Alliance and Integration is of strategic importance for bilateral relations. The status of an ally of the Russian Federation enshrined in the Treaty, together with the formation of a common defense space for South Ossetia, provides the maximum possible guarantees of state sovereignty and security, strengthening international positions, promoting recognition of the independence of the Republic and prospects for sustainable socio-economic development, "the Minister said.
Medoev has added that, given the recent military-political situation in the South Caucasus, this agreement defines the right to collective defense and joint repulsion of aggression in case one of the parties is subjected to armed attack.