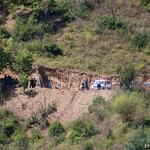 The State Security Committee of South Ossetia announced the revitalization of the Georgian Ministry of Internal Affairs in certain sections of the state border of the Republic with Georgia.
"In particular, in the Georgian territory opposite the village of Grom of the Tskhinvali region, Georgian Interior Ministry officers are conducting a reconnaissance of the area, as well as preparatory work for the installation of additional observation posts or checkpoints. Also, in the village of Adzvi of the Gori Municipality, bordering on the village of Artseu of the Tskhinval district of South Ossetia, there has been an increase in the number of the Georgian police personnel from 8 to 40. There are 1 Otokar-Kobra armored personnel carrier and 4 Toyota-Hailux vehicles at the post, " The KGB said on Thursday night.
In addition, an increase in the number of personnel of the Ministry of Internal Affairs of Georgia from 6 to 12 people occurred at the posts in the villages of Adzvistavi and Akhalubani, Gori municipality.
"In the village of Khurvaleti, Gori municipality, construction work has begun on constructig the police post of the Ministry of Internal Affairs of Georgia. In particular, the construction team carried out the destruction of the dilapidated household and cleared the site using construction equipment," the statement said.
The KGB believes that the activity of the Georgian security forces on the South Ossetian-Georgian section of the state border is aimed at destabilizing the situation, eroding the state border regime and creating prerequisites for the escalation of tension.