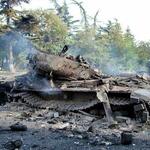 Representatives of the General Prosecutor's Offices of South Ossetia and Russia discussed at a round table in Tskhinval the issues of cooperation in the investigation of war crimes committed in August 2008.
Prosecutor General of South Ossetia Uruzmag Dzhagaev noted that criminal cases on the events of the August war were instituted both in Russia and in South Ossetia.
"The Investigative Committee of Russia is investigating a criminal case on the same corpus delicti as ours: the war crimes of August 2008, when Russian citizens perished - residents of our Republic and Russian peacekeepers. I would like to get acquainted with these criminal cases, see who is wanted by him, and compare it with our list," said Dzhagaev.
The Attorney General has also noted that persons who committed war crimes in South Ossetia are still not wanted by the Russian side.
"We many times sent the information about those persons who committed crimes, including the military in the territory of South Ossetia, from 1989 to 2008, But the Ministry of Internal Affairs of Russia hasn't put any of them on the wanted list yet," said the Prosecutor General.
In addition, the South Ossetian side raised the issue of persons who escaped during the military events in 2008 from the Tskhinval prison.
The corresponding instructions were also given on this issue.