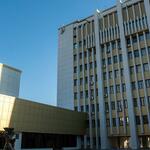 The events in post-election Belarus clearly showed who is a friend and a reliable ally of the Belarusian people, and who has never been, an official representative of the South Ossetian Foreign Ministry said in a comment to the IA Res.
"We are closely monitoring the processes taking place recently in the Republic of Belarus, starting with the 'detention' of 33 so-called employees of the Russian PMC on the eve of the presidential elections and up to the organized mass protests in this country. It can be argued with a high degree of confidence that the processes in Belarus, on the one hand, and the campaign with the "poisoning" of opposition leader Navalny in Russia, on the other, are interconnected and have a pre-planned character, "the commentary says.
According to the Foreign Ministry spokesman, the main task of the seemingly unrelated events is not only the overthrow of the ruling regime in a particular country.
"These phenomena have far-reaching goals, the main of which, in our firm conviction, is to prevent the formation of a qualitatively new Russian-Belarusian union.
The formation of a single Russian-Belarusian military-political space will fundamentally change the approaches to the principles of international communication in Europe and create a stable reality that excludes diktat and attempts at military escalation in the region, which will nullify a number of external threats for both Russia and Belarus " , - he said..
He has stressed that the events in post-election Belarus has clearly showed who is a friend and reliable ally of the Belarusian people, and who has never been.
"First of all, the closest European neighbors of this country - Poland, the Baltic countries, Ukraine, of course, with the dominant role of the United States, as well as Georgia that joined them - the favorite of the countries of the anti-Russian belt, appeared from the negative side. Knowing the attitude of the overwhelming majority of the Belarusian people, their firm stance on preventing the destruction of the state, South Ossetia is confident that the crisis will be overcome as soon as possible. There is no alternative to the peace process," said the representative of the Foreign Ministry, wishing peace to the fraternal people of Belarus.