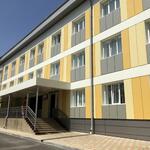 As of the morning of January 20, 68 patients diagnosed with COVID-19 are being treated in the "red zones" of the Republican Multidisciplinary Medical Center of South Ossetia, Eleonora Dzhioeva, the chief infectious disease specialist of the Republic, told IA "Res"
"Currently, 30 patients are treated in the infectious diseases building of the hospital, 38 in the building of the children's hospital. Two of them are in the intensive care unit. Two more people are on non-invasive artificial ventilation," doctor said.
Dzhioeva has said that over the past day, four people with coronavirus were hospitalized at the medical center, seven patients were discharged.
In addition, 32 patients were examined in the admission and triage department of the Republican Medical and Medical Center on Tuesday, one of them was hospitalized.
"There have been tested 51 people in the admission and triage ward. Six patients were referred for computed tomography of the chest organs," the doctor said.
As noted by Dzhioeva, the mobile teams examined 12 patients at home, three were tested.
The chief infectious disease specialist of the Republic asked the residents to observe all preventive measures to prevent the spread of the new coronavirus infection.