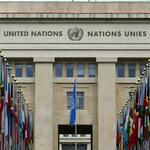 A videoconference was held between the Presidential Plenipotentiary Envoy of South Ossetia for Post-Conflict Settlement Murat Dzhioev with the co-chair of the Geneva Discussions on Security and Stability in Transcaucasia, the representative of the Swedish OSCE Chairmanship, Annika Söder.
According to the press service of the Plenipotentiary's office, the video communication for the South Ossetian part on Tuesday was also attended by Deputy Presidential Plenipotentiary, head of the South Ossetian delegation in the MPRI format Yegor Kochiev and an employee of the Ministry of Foreign Affairs Marina Ualyty.
"During the conversation, the parties thoroughly exchanged views on the development of the Geneva process. The South Ossetian participants informed Annika Söder, who took office since January this year, about the great importance that South Ossetia attaches to the Geneva discussions in the context of ensuring security and stability, noted the main tasks, those facing the Geneva discussions in accordance with the Medvedev-Sarkozy agreements, focusing on the work on the document on the non-use of force, outlined their vision of increasing the effectiveness of discussions in resolving issues within their mandate, including the situation in the areas of the state border between South Ossetia and Georgia.
The participants noted the positive significance of the Incident Prevention and Response Mechanism (IPRM) and the IPRM Hotline operating in the framework of the Geneva discussions, and agreed to support the active work of this format in the future, "reads the statement of the mission.
The parties also discussed humanitarian issues. The South Ossetian participants have been assured that the OSCE will continue to make efforts to clarify the fate of the South Ossetian citizens to be listed missing.