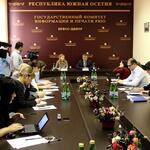 South Ossetia intends to develop relations with Syria, "Anatoly Bibilov said during a press conference in Tskhinval.
According to him, the Republic is ready to provide Syria with humanitarian aid, as well as political support.
"The issue of the trip of the South Ossetian delegation to Syria is now being worked out. We also plan to collect humanitarian aid for the Syrians. Moreover, representatives of our ethnic group live there and, of course, we should support them as far as possible, "said Anatoly Bibilov.