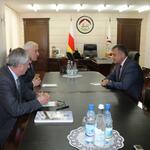 President of South Ossetia Leonid Tibilov met with the new head of state Anatoly Bibilov, who won the elections on April 9.
Tibilov congratulated Anatoly Bibilov on his election as president of the country and wished him success in his new post.
"You have become the new president of the country for the next five years," said Tibilov. "I want to congratulate you on behalf of myself, as well as on behalf of the government and voters, whom we should thank for having taken such active part in the elections."