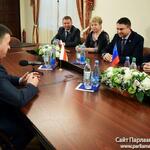 The head of the Lugansk People`s Republic Leonid Pasechnik received a delegation of the Parliament of South Ossetia
Pasechnik said that the Inter-Parliamentary Agreement of the LPR and the RSO, signed in Lugansk, is a step towards strengthening relations between the republics.
"I would like to express my gratitude for your visit, for signing the contract. This, of course, is a step towards further strengthening our relations, which are already strong and friendly. I hope that this will continue in the future," the head of the LPR said.