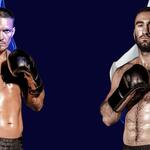 Ossetian boxer Murat Gassiev told about the main lesson he learned from the defeat in the finals of the world super series, meeting in the ring with Alexander Usik.
"Before meeting with Usik, I laid out 100 percent in training. This was not enough. The lesson is that you should be given training not by 100, but by 1000 percent," said Gassiev in an interview with the "Behind The Gloves channel ".
On the question of whether Gassiev wants revanche with Usik, the boxer answered in the affirmative.