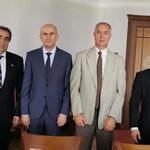 In St. Petersburg, took place a meeting of representatives of the South Ossetian Embassy in Moscow with the Chairman of the Committee for External Relations of the Leningrad Region Oleg Konovalov. According to the press service of the Embassy, ​​the meeting was held within the framework of the agreements reached by the Ambassador of the Republic to the Russian Federation Znaur Gassiev and the Governor of the Leningrad Region Alexander Drozdenko on July 30, 2021.
"During the conversation, an exchange of views took place on the possible parameters of cooperation between South Ossetia and the Leningrad region in socio-economic and cultural spheres, as well as the elaboration of a draft agreement for the legal registration of joint actions," the Embassy said.
Representatives of the Leningrad Region expressed their readiness to visit South Ossetia and get acquainted.in more detail with the areas of further cooperation on the spot. For a more detailed understanding of the prospects, the parties agreed to continue consultations.