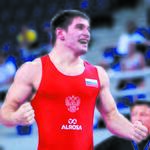 The World Junior Wrestling Championship is being held in Tallinn. Following the results of the fights, Alan Bagaev reached the final of the competition in the weight class up to 92 kg, reports the"15 region".
On the way to the decisive match, the Ossetian athlete defeated the rivals from Iran, Turkey, Azerbaijan and Germany.
In the key confrontation of the tournament, the Russian athlete will meet with the American Lucas Davison. It should also be noting that Alan Kudzoev won bronze medals in competitions in the weight class up to 70 kg.