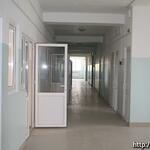 In South Ossetia have been recovered 2 out of 34 citizens who had laboratory-confirmed COVID-19.
As reported to IA Res by the press service of the Ministry of Health of South Ossetia, "the condition of the remaining patients is stable, many of them have lack temperature. Patients are under close medical attention,".
Today, 87 people, citizens of the Republic who were under two-week quarantine in the Republican Medical Center and in the village of Dzau, have left medical facilities of South Ossetia.