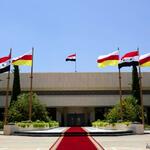 Consultations are under way on the opening of the South Ossetian embassy in Damascus and the Syrian diplomatic mission in Tskhinval, Foreign Minister Dmitry Medoev told reporters.
According to him, such processes, as a rule, take a lot of time.
"During the visit of the President of South Ossetia to Syria, fruitful and informative talks were held, in particular, between the heads of the two states. Issues of development of bilateral relations were discussed. If you remember, in the communique on mutual recognition, which was published on May 29, it is said that the interaction between the countries will be at the embassy level, "the minister said.
The Foreign Minister has added that consultations are currently under way on this issue with Syrian counterparts, including through the SAR Embassy in Moscow.
Medoev has also noted that a delegation from Syria is expected to arrive in Tskhinval to discuss priority areas for cooperation, including projects in the sphere of economy.