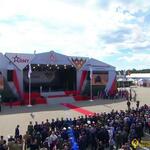 The Defense Minister of South Ossetia, Lieutenant General Ibrahim Gasseev, took part in the opening ceremonies of the international military-technical Forum "Army-2020" and the final of the International army games in the Patriot Park near Moscow.
According to the press service of the department, Ibragim Gasseev, at the head of the delegation of the Ministry of Defense of the RSO, arrived in Moscow on the invitation of the Minister of Defense of the Russian Federation, General of the Army Sergei Shoigu.
For the first time, teams from the South Ossetian Ministry of Defense are taking part in the Tank Biathlon and Outstanding Troops Intelligence Competitions.
This year, for the first time, the Forum, which has become the world's largest arms exhibition, is being held simultaneously with the Army International Games "ARMY-2020". They were opened by the Minister of Defense of the Russian Federation Sergei Shoigu, the Chairman of the Government of the Russian Federation Mikhail Mishustin took part in the solemn event.
Ibrahim Gasseev in an interview with the Zvezda TV channel has noted that participation in the Forum and the army games strengthened relations between the countries, and also thanked the Russian side for the opportunity given to the national army teams to demonstrate their skills at such a high level.
"We are here with our brothers Abkhazians, my close friend, Minister of Defense of the Republic of Abkhazia Vladimir Anua. Our teams are perform together and I believe that they will show a good result,"Gasseev said.
As part of the program of the events, Minister of Defense took part in a plenary meeting chaired by Deputy Prime Minister of the Russian Federation Yuri Borisov.
There was also a showcase race of crews on T-34 tanks at the Alabino training ground, a view of the first stage of the tank biathlon competition, an individual race and other events.
Delegations from 92 countries are expected to participate in the Army 2020 Forum, which will end on September 5, 18 delegations will be headed by Ministers and Deputy Defense Ministers. One and a half thousand Russian and foreign organizations and enterprises will present 28 thousand exhibits, 700 units of military equipment and weapons. The Forum participants will be presented with novelty.