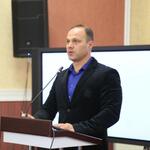 Researcher of the Department of Economics of the South Ossetian State University Vyacheslav Dzhabiev took part in the VI International Symposium on Regional Economics "Interterritorial Inequality: Problem or Driver of Development", which was held from 23 to 25 June in Yekaterinburg at the Institute of Economics of the Ural Branch of the Russian Academy of Sciences.
As reported by Dzhabiev to the IA "Res", this year the institute celebrates the 50th anniversary of its foundation, the symposium was included in the program of anniversary events.
"The symposium on regional economics is intended to unite the efforts of the scientific community, representatives of government and business to solve the fundamental problem of overcoming challenges to the development of territorial communities of different levels," he said.
According to Dzhabiev, a wide range of issues of the regional economy were considered within the framework of the event.
"Every year, the attention of the participants is focused on one - complex and debatable - aspect of regional development. In 2021, the theme of the symposium is inter-territorial inequality. It was planned to discuss the impact of inter-territorial inequality on transforming socio-economic systems, characterize the scale and causes of disproportions in the development of countries, regions, municipalities, as well as ways of managing these processes ", - said the researcher.
Vyacheslav Dzhabiev noted that the main thematic areas of the symposium were: theoretical aspects of inter-territorial inequality, methodological tools for assessing the level of inter-territorial differentiation, comparative analysis of heterogeneous spatial systems, inequality in the system of center-periphery relations, processes of regional convergence and divergence, ways and mechanisms for reducing inter-territorial differentiation. socio-economic differences, coronavirus as a new factor of inter-territorial inequality, and others.
The scientist from South Ossetia made an online scientific report on the topic "Institutional mechanisms for reducing inter-territorial socio-economic differences in border territories" on the example of South and North Ossetia.
The work was co-authored with Doctor of Economy, Associate Professor Svetlana Doroshenko, with the financial support of the Russian Foundation for Basic Research and the Ministry of Education and Science of South Ossetia in the framework of the scientific project "Factors and mechanisms of self-development of a young state in conditions of economic isolation (on the example of the Republic of South Ossetia) ".
Based on the results of the work, it is planned to publish a collection of works of the symposium, which will be indexed in the RSCI and in Scopus.