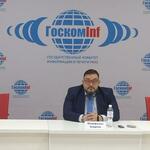 The practice of using family doctors in South Ossetia will be useful in the context of the coronavirus pandemic, said Andreas Schiffman, a specialist in intensive care from Germany, who was invited to South Ossetia.
"I think that there are enough doctors in the Republic who have already retired and who would like to work. Let's say the polyclinic is open from Monday to Friday, but on weekends it would be possible to just involve doctors of retirement age. This is a common practice all over the world. Medicine does not end on Friday, it is year-round - 24 hours a day," said the resuscitator.
According to him, a big problem in the process of treating a patient is that he addresses his complaints to several doctors.
"A person is dissatisfied with one doctor, then he turned to a second, third, etc. In the end, it turned out that the medical history was lost, we do not know what it was originally. Therefore, when a patient has a certain problem, it is better for him to have a family doctor, and be with him from the moment of birth until adulthood or old age," Schiffman believes
He also noted that another difficulty lies in the fact that people seek medical help late enough if they have signs of SARS.
"No one bothers them to come to the clinic at an early stage of the disease. Don't hope for luck. At an early stage, it is very difficult to identify influenza and SARS from COVID-19. It is important not to allow the disease to worsen," the resuscitator stressed.
Andreas Schiffman also drew attention to the need to comply with the mask regime, which, for example, in Europe, led to a significant decline in the incidence of SARS.