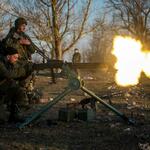 "Madina Amiranovna, everything is fine with us, we are defending our Fatherland and people!"
Every day, Madina Plieva, the head of the Fund for Support of the Wounded Who Became Disabled During the Hostilities in South Ossetia, receives voice messages from the colleagues from Donbass.
"We are in touch with them around the clock, I write to them every day, I am interested in the situation. They respond as far as possible, because the situation in Donbass is very tense, there is a real war going on. They write that they are very grateful to Russia, which is conducting a special operation to achieve the denazification and demilitarization of Ukraine. Russian President Vladimir Putin has repeatedly noted that Russia does not set itself the goal of seizing the territory of another state," said Madina Plieva in a commentary to the Res news agency.
According to her, the people of South Ossetia are well aware of what war is, what it means to lose their loved ones, what it means to exterminate civilians...
"Over the years of upholding independence, we have witnessed many terrible tragedies: our guys were brutally tortured and buried alive, hundreds of civilians were killed, a column of refugees was shot, etc. Today, all these atrocities are repeated by neo-Nazis - Bandera against the common people of Ukraine and Donbass in multiple sizes. During the special operation and the liberation of Ukrainian settlements from neo-Nazis, mass graves of civilians are periodically discovered. When we learn about such facts, before our eyes there is a picture of those tortured and buried alive in the Yered tragedy. Such inhuman acts cannot be justified by anything," the head of the foundation says with tears in his eyes.
Madina has said that those who became disabled during the aggression in 2014 also stood up to defend Donbass today.
"Most of them have prosthetic legs, but still, they are fighting for their people and are firm. One of them recently broke his prosthesis, returned home, replaced it and continues to fight. Each of these guys is a real hero," she said.
Thanks for attention!
The head of the Fund has noted that the people of Donetsk constantly support her, although in reality it should be the other way around. Every day she receives news from Donbass:
"Thank you, Madina Amiranovna, for your warmth and attention. Today, those who have cars were allowed to go home for one night, but they were warned that everyone should arrive at the place of deployment on alarm ...".
"Sister, don't worry, we will hold out, we will break through. Everything will be fine, God willing…"
"Madina Amiranovna, everything is fine, we are alive, healthy, so far without losses in our company. They are running away, leave their equipment… Victory will be ours!".
"Unfortunately, there are losses, wounded. I have a hard day; I need to inform my relatives about the death of the guys ... ".
"Sister hello! Thank you for your attention, yes, they are shooting, but we are used to it. For eight years we have adapted to everything: to a hard life, to shooting, to explosions. But everything will be fine, our friends are nearby, and at home our relatives are waiting for us - parents, children, wives ... ".
These are the messages Madina Plieva receives daily from the defenders of Donetsk and Lugansk.
"Every time I write to them, I'm afraid to hear bad news. When they answer, and even in a good mood, I feel their fighting spirit, I feel calmer in my soul. Here are the guys with prosthetic legs who wrote to me, but they are fighting against fascism and neo-Nazis and are ready to go the end," Plieva said.
She added that the people of Donetsk and Luhansk do not get tired of thanking great Russia for help in the fight against the enemy, for recognizing their independence.
Showing mercy
Today, thousands of civilians in the DPR and the LPR are forced to leave their homes. They were sheltered in many republics and regions of Russia. Refugees were also received in South Ossetia, 42 people arrived in the Republic, of which 24 are children under 12 years old. The refugees were accommodated on the territory of the Victoria Hotel in Tskhinval. Immediately after the aggravation of the situation in the Donbass, on behalf of the President of the Republic of South Ossetia Anatoly Bibilov, a vehicle was allocated to transport the internally displaced women and children from the Donetsk People's Republic to South Ossetia.
Children are studying at the Tskhinval School No. 3, and they are very satisfied with the attention and conditions. Many departments and individual residents provide all possible assistance to them. Representatives of the Foundation for the Support of the Wounded, who became disabled during the hostilities in South Ossetia, are also helping the refugees.
"We have come to them more than once; we help to the best of our ability. Our guys offered their services as drivers if they need to go somewhere," she said.
Recognized first
Republic of South Ossetia is the first state to recognize the independence of the Donetsk People's Republic and the Luhansk People's Republic. And since then, there has been active cooperation in almost all areas of life. Particularly warm relations have developed between the Fund for the Support of the Wounded, who became disabled during the hostilities in South Ossetia, and the colleagues from Donbass.
"Let me remind you that we have friendly relations with these republics, there is close cooperation with colleagues from the DPR and the LPR through the organizations that support the wounded who have become disabled during combat operations. More than once, representatives of our organization took part during the public holidays of the two republics. In addition, with the direct participation and support of the President of South Ossetia Anatoly Bibilov, we were able to erect a monument to the fallen heroes of the DPR from the war invalids of South Ossetia. Another memorial monument is going to be erected in Lugansk. But the pandemic has made adjustments to our plans, and today there is a special operation for denazification and demilitarization," she said.
South Ossetia recognized the independence of the DPR and the LNR in 2014. In May 2017, South Ossetia and Donetsk signed an agreement on friendship and mutual assistance. In December 2018, a similar agreement was signed with Luhansk.