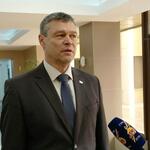 The Georgian side does not carry out preventive work with the population of Georgia, and therefore the number of Georgian citizens who violate the state border of South Ossetia does not decrease, - said the head of the South Ossetian delegation to the IPRM Egor Kochiev, commenting on the results of the next meeting.
He believes that people should be explained that there is a state border, and that if it is violated, they will be detained and face the justice of the Republic of South Ossetia.
"We approach each violator from a humanitarian point of view, if the border is violated for the first time or out of ignorance. All facts are revealed, and such violators are expelled to Georgia without penalties," Kochiev said.
Another thing, added the Deputy Plenipotentiary Representative of the President for post-conflict Regulation, if a citizen violates the state border intentionally, repeatedly or with malicious intent, then a criminal case is initiated and the fate of this person is already decided by the court.
"There are cases when a person repents of his deed, and then the period of detention is short. Otherwise, the person receives a real term and serves his sentence in the Tskhinval prison. There are eight such people. Three of them have already been convicted, and the other five are under investigation," he has explained.
The 106th IPRM meeting took place today. Meetings in the IPRM format are held within the framework of the Geneva discussions on security in the Caucasus. The dialogue is attended by representatives of South Ossetia, Russia, Georgia, the European Union and the OSCE.