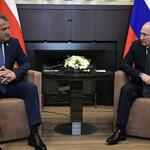 On Wednesday, March 6, President of the Republic of South Ossetia Anatoly Bibilov will meet with the President of the Russian Federation Vladimir Putin in Moscow.
According to the press service of the President and the government of the Republic, "during the meeting, it is planned to discuss the current state and prospects for further building up bilateral cooperation, primarily in the socio-economic sphere."
The visit of the head of South Ossetia in Russia is working.