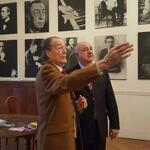 The possibility of training representatives of South Ossetia at the Parisian Russian Conservatory named after Sergei Rachmaninov is being studied, said the head of the Ministry of Foreign Affairs of the RSO Dmitry Medoev at a briefing in Tskhinval.
According to Medoev, this issue was discussed during his meeting in Paris with the rector of the Conservatory, the Chairman of the Presidium of the International Council of Russian Compatriots, a Count Peter Sheremetyev.
"We discussed issues related to training talented young people from South Ossetia in the Paris Conservatory," Medoev said. "We will be working on this issue with the Ministry of Culture of our Republic and those organizations that are involved in this matter."
Medoev has added that the Rachmaninov Conservatory is very popular in France.
"Of the conservatory students, only 20 percent are Russians, the rest are French, Italians and representatives of other nations. This is a prestigious school, which has serious, deep roots, "the Minister said.
According to Medoev, in the course of the meeting were also discussed the issues of coordination of the activities of compatriots.
"Those projects implemented through the International Council of Compatriots will also relate to South Ossetia," the Foreign Minister of the Republic stressed.