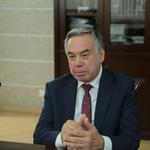 Ossetians living in Turkey closely monitor the achievements of South Ossetia's leadership in the development of diplomatic relations and cooperation with other countries, Remzi Kanukati, plenipotentiary of the Ministry of Foreign Affairs of South Ossetia in the Republic of Turkey, said during a meeting with the President.
President Anatoly Bibilov received the Plenipotentiary on Friday, and Minister of Foreign Affairs Dmitry Medoev also took part in the meeting.
After welcoming the guest, the head of state thanked him for his visit to the south of Ossetia with his family.