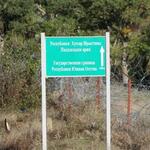 The border guards of South Ossetia detained four Georgian citizens for one day, trying to illegally cross the state border of the Republic.
According to the press service of the state security committee of the RSO, two violators turned out to be priests of the Georgian Orthodox Church.
"On October 20, four citizens of Georgia were detained by border guards on a section of the state border of the RSO with Georgia in the vicinity of the villages of Balata and Ahmadz in Leningor district.
This is Guram Zurabovich Lobdjanidze, born in 2000, Joseph Nodarovich Teteloshvili, born in 1986. - residents of Tbilisi and Georgy Zakharovich Shamanauri, born in 1985, Yason Spartakovich Shukakidze, born in 1988. - residents of the village of Okami of the Caspian region
Since Lobdzhanidze and Teteoshvili were clergymen, South Ossetian border guards, based on humane considerations, handed them over to the Georgian side without any penalties.
In the case of the other two violators, proceedings are underway, the issue of the transfer of materials to the court is being considered.