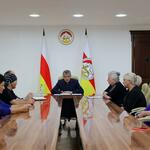 President of South Ossetia Anatoly Bibilov met with relatives of the missing citizens of the Republic, the press service of the head of state reports.
Inal Tasoev, Presidential Commissioner for human rights, and Lidia Kudzieva, the Chairman of the Committee of the dead and missing "Memory and Hope", also took part in the meeting dedicated to the Day of the missing.
In his address to the audience, Anatoly Bibilov has stressed that there is nothing more painful than not knowing the fate of your loved one.
"Georgia has not yet provided any information about the fate of the missing citizens of South Ossetia. And we are doing a lot of work in this direction, and we regularly raise this issue on international platforms. But, unfortunately, nothing is yet known about their fate," he said.
The President has also stressed that there are 11-year-old video footage of South Ossetian citizens being tortured and beaten, but even with this evidence, the Georgian side does not compromise.
"These people do not have a shred of empathy; they brazenly deny everything. This is the essence of the Georgian policy towards South Ossetia, which has not changed since 1920. But in any case, the work in this direction does not stop, " Anatoly Bibilov said.
In turn, Lidia Kudzieva said that at one time the South Ossetian side handed over the bodies of the missing persons to the Georgian side out of respect for the grief of others, despite the fact that they came to the South Ossetian land with the war.
"We very much hoped that the Georgians would take a similar step and transfer us the bodies of our citizens so that we could bury them in their native land," Lidia Kudzieva said.
During the meeting, issues of social support for relatives of the missing persons were also discussed. Lidia Kudzieva came out with offers to help them with health care, and also asked to improve their housing conditions and help prepare children for the school year.
The head of state took into account all the proposals and gave instructions to the relevant authorities.