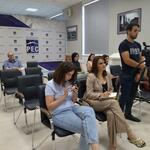 The issue of legalization of certificates issued in South Ossetia on vaccination with the Russian Sputnik V against coronavirus and the introduction of some restrictions on mass events in the Republic will be discussed at the meeting of the operational headquarters under the government at the beginning of the new week. Marina Kochieva, head of the South Ossetian Consumer Supervision Committee. announced this at the briefing in Tskhinval.
All decisions are made by the headquarters to prevent the spread of coronavirus infection. There are no prerequisites for the introduction of strict anti-covid measures yet. But we, for our part, will raise some questions. I believe that it is necessary to introduce restrictions on holding mass events, this also applies to religious holidays, weddings, etc. This can be 50% occupancy of halls, including in cafes and restaurants, as in Russia, so that this situation does not affect the overall business. But all this depends on the development of the epidemiological situation in the future," Kochieva said.
She emphasized that at this stage, mask mode and social distance is a mandatory measure, like other preventive measures.