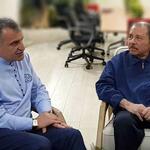 President of South Ossetia Anatoly Bibilov congratulated the President of the Republic of Nicaragua Daniel Ortega on the 200th anniversary of the Republic's Independence Day, the press service of the head of state reports.
"On behalf of the leadership, the people of the Republic of South Ossetia and on my own behalf, I send you and in your person to the entire Nicaraguan people the sincerest congratulations on the occasion of the national holiday of the Republic of Nicaragua - the 200th anniversary of Independence Day.
The past years have best demonstrated the wisdom of your people, who chose the path of freedom and independence on September 15, 1821. This historic event became an act of democracy and a symbol of the free development of Nicaragua. Today, the Nicaraguan state is confidently building a worthy future for its people and is consistently strengthening its position in the international community, "the congratulatory message says.
According to the President, the people of the Republic of South Ossetia will always remember with gratitude the invaluable support provided by the Republic of Nicaragua in one of the most difficult periods in the history of our young state.
"I am convinced that our interstate relations, our cooperation of mutual interest will be developing and expanding.
I am glad to take this pleasant occasion, dear Comandante Ortega, to wish you good health, new impressive successes in your state activities, and peace, well-being and prosperity to the friendly people of Nicaragua, "the head of state said.