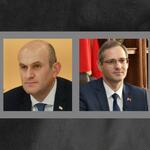 On September 20, 2016, the Treaty of Friendship, Cooperation and Partnership was signed between the Republic of South Ossetia and the Pridnestrovian Moldavian Republic.
According to the press service of the Ministry of Foreign Affairs of the RSO, on the occasion of the sixth anniversary of the signing of the Treaty, Minister of Foreign Affairs of the Pridnestrovian Moldavian Republic Vitaly Ignatiev sent a congratulatory message to the Minister of Foreign Affairs of South Ossetia Akhsar Dzhioev.
"Mutual respect and friendship between our peoples, based on the similarity of the historical path, as well as a common understanding of the strategic goals of the development of the state and society, serve as a reliable foundation for strengthening and expanding cooperation between Pridnestrovie and South Ossetia," the message says.
The PMR Foreign Minister has expressed confidence that the signing of the Treaty confirmed the commitment of the peoples of our countries to the universal ideals of peaceful coexistence, mutual support and assistance, and also marked the beginning of a new stage of constructive interaction.