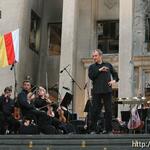 In South Ossetia, Valery Gergiev is loved not only for his contribution to the world musical culture, but also for his civic position, for the great support he provided to the people of the Republic. This is stated in a congratulatory message of President Alan Gagloev to the artistic director - director of the State Academic Mariinsky Theater Valery Gergiev in connection with his 70th anniversary.
The head of state has stressed that the unforgettable concert-requiem in the center of Tskhinval, held in August 2008, filled the hearts of the people who had just gone through the horrors of war with hope for peace and a free future.
"You are a person not only of multifaceted talent, but also of incredible energy, constant creative search. A well-deserved reward for your work is the sincere love and gratitude of admirers and connoisseurs of contemporary musical art," reads the text of the congratulation published on the official website of the President.
Gagloev has expressed confidence that the maestro has many new creative achievements and victories ahead, and devotion to the audience will help him create many more wonderful concert programs.