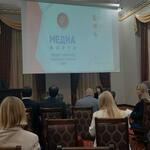 Zalina Tskhovrebova, editor-in-chief of the Yuzhnaya Ossetia newspaper, is taking part in the media forum of national media, which is taking place in Istanbul, the capital of Turkey.
The event was organized by the Government of Moscow, the Department of Foreign Economic and International Relations and the State Autonomous Institution "Moscow Compatriot House".
Representatives of the Russian Embassy in Turkey, the Moscow government, more than 40 representatives of Russian-language foreign media have been invited to the forum. These are publishers, editors and journalists of Russian-language foreign and Russian media, bloggers, representatives of organizations of Russian compatriots abroad, and Russian experts.
According to Zalina Tskhovrebova, the meetings are being held in the format of round tables and discussions. Journalists from different countries are exchanging experience, discussing current problems in the media sphere.
"At the master classes, we are talking about the work of journalists in the conditions of information confrontation, as well as the changes in the media and ways to advance in modern conditions," she said.
Tskhovrebova said that at the opening ceremony of the forum, Minister of the Moscow Government, head of the Department of Foreign Economic and International Relations of the city of Moscow, Sergei Cheremin, welcomed the participants of the event on behalf of the Moscow Department. He noted the importance of meetings of representatives of the national media, focusing on the current situation in the world.
The editor of the international department of news.ru portal Konstantin Volkov spoke about the importance of his information concept in order to promote cultural values.
Elena Berezina, Deputy Editor-in-Chief of Rossiyskaya Gazeta, believes that the media component is very important in the life of society, as it continues to shape public opinion.
"Everything we write, publish, should be based on universal cultural values. The media should themselves dictate the cultural agenda," Berezina believes.
The media forum will last for several days. During this time, the participants will discuss the issues of covering cultural news against the backdrop of the dominance of the political agenda, changes in the work of social networks, as well as ways to counter the pressure of Western media on Russian media.
As part of the round table, the participants will also discuss work to preserve the target audience of the media of compatriots.