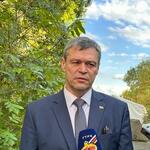 South Ossetia continues to insist on the removal of the illegal Georgian post in the village of Uista. Members of the South Ossetian delegation once again stated this at the meeting in the IPRM format, held on Tuesday in the village of Ergnet.
"Negotiations on this topic are ongoing, but they cannot be called easy. We hope that the Georgian party will understand the pointlessness of finding this post on our territory and it will be removed. After this issue is resolved, the residents of our Republic will stop experiencing discomfort, and the situation in this area will improve," Egor Kochiev, Deputy Presidential Plenipotentiary Rnvoy of the Republic of South Ossetia for post-conflict resolution, the head of the South Ossetian delegation to the IPRM, told reporters following the meeting.
He has shared that the Georgian party, commenting on this issue, replies that "this is a standard police post that does not pose any threat."
"According to them, there are 12-14 standard police officers there. We understand that no matter how standard they are, they are armed. Persons present on the territory of the Republic with weapons cause us concern. This is a threat and should not exist. We are calling on the Georgian party to resolve this issue diplomatically and stabilize the situation in this area," Kochiev has emphasized.
The head of the delegation has concluded that the formal answer about a standard police post does not satisfy the South Ossetian party.
The next meeting within the IPRM is scheduled for November 1, and a technical meeting is also planned.