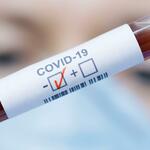 23 tests for coronavirus per day showed a negative result, new cases of coronavirus infection have not been registered in South Ossetia for six days, Deputy Head of the South-Ossetian Consumer Supervision Committee told IA "Res" on Thursday.
Since May of this year, 3324 people have been tested for coronavirus in the Republic.
"To date, there are 4 patients in the hospital with a laboratory-confirmed diagnosis of COVID-19," Gagloeva said.
186 people are under medical supervision, 125 people are in medical institutions of the Republic, 36 of them are in the infectious diseases department.
In total, 89 people infected with coronavirus have been identified since May, all of them were in quarantine within the walls of medical facilities, thanks to timely measures taken by the authorities, 85 people recovered and were discharged from medical facilities.
Under quarantine zones in the Republic, are assigned departments in the Republican Multidisciplinary Medical Center in Tskhinval, in the district hospitals in the settlements of Dzau, Znaur and Leningor, as well as the former maternity hospital and the hotel "Alan".
Until July 31, there are restrictions on crossing the border with Russia.