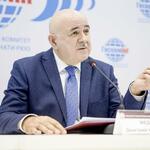 The decision of the operational staff to lift restrictions on the border of South Ossetia with Russia is not a momentary one, but the result of purposeful work, Dmitry Medoev, a member of the operational staff, acting foreign Minister of the Republic, told IA "RES".
"In order to remove restrictions and reduce to nil the inconveniences of our citizens, consultations and negotiations have been conducted both by the President and by the government. Today, at the meeting of the headquarters, it was decided to remove restrictions on border crossing by citizens. both South Ossetia and Russia, "Medoev said.
He has stressed that at the meeting of the headquarters, the President especially noted the work of doctors who were selflessly fighting for the life and health of the citizens of the Republic, as well as all the structures that ensured the regime of restrictions that had been in effect since March of this year.
"Yes, there were inconveniences, this is natural, but the virus did not pass and the safety of our citizens was ensured. A serious figure was announced today: not a single death during the entire period of restrictions and 90 identified patients with the coronavirus COVID-19. This is more than 10% of the number of returning home of citizens. Agree, this is a large percentage ", - said Medoev.
According to him, it is difficult to imagine what could have been, "given that, according to world statistics, one patient infects ten or more people!"
"For our small Republic, this would be a real humanitarian catastrophe! I absolutely responsibly declare that all our decisions were correct and timely. The President instructed the Ministry of Foreign Affairs to hold consultations with Russian colleagues on the issues related to the mutual opening of the border, and we immediately begin to implement this instruction, "the Foreign Minister noted.
Note that on Sunday, August 30, for the first time since mid-July, a child infected with coronavirus was detected in the Republic. In total, 305 citizens are under observation in quarantine.
Since May, 90 people infected with coronavirus have been detected in South Ossetia, all of them were in quarantine within in the medical institutions, thanks to the timely measures taken by the authorities, 89 people recovered and were discharged from medical institutions.
More than 4.8 thousand tests for coronavirus have been carried out in the Republic since May this year.
Until August 31, there are restrictions on crossing the border with Russia, on Monday the Cabinet of Ministers will adopt a new decree on the lifting of restrictive measures from September 15 on the border with the Russian Federation through the Ruck crossing point.