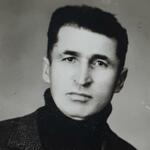 Georgy Biboevich (Gega) is one of the patriots of Ossetia killed by the Georgian aggressors, a father of Robert Ostaev, a deputy of the South Ossetian parliament. On May 20, 1992, on the road through the village of Zar, a convoy of refugees from South Ossetia was stopped by the Georgian armed formations and shot at point-blank range with machine guns. Ostaev's parents were in this ill-fated car.
The day before the tragedy, Ostaev's parents came to visit their children. Robert lived in the city with his brothers and sisters, and his parents lived in the village. They spent the night with them. There was heavy shelling during the night, and Robert was in the war zone as part of the militia. Therefore, when he came at night tired, he immediately went to bed.
"In the morning at dawn, I remember how my father woke me up, but due to extreme fatigue I did not get up. By the time I woke up, my parents had gone back to the village. I never got to see them. I had one friend Taimuraz Pukhaev. We became very good friends during the fighting. That day he told me that he had some business in the village of Bekmar and asked me to go with him. We rode on a bright blue three-wheeled motorcycle, I don't remember where it came from, in my opinion, from humanitarian aid. We drove through the village of Zar, because at that time it was impossible to drive through Avnev," says Ostaev.
On the way, according to Ostaev, nothing was heard from the noise of the motorcycle. They did not know the exact time, at what time they reached the village of Zar, but on the road they stumbled across people who stood puzzled, saying that the sounds of shots were heard higher on the road.
"When we were told this, I asked Temo: "What could it be?" He suggested that some new weapon had been brought in, and our fighters were testing it. We did not allow a single thought that at that moment people were being brutally murdered there. Coming back, we saw a thick trail of blood spread along the road. This picture took us by surprise. We were both taken aback, but quickly came to our senses and followed the tracks of the car. On the way I met my old friend. He told us that the Georgians had shot our people. I was immediately worried, although I did not know that my parents were in this car, but my heart skipped a beat," he continued.
There were many people in the hospital, where the bodies of brutally murdered people were brought. People were looking for relatives and friends. Robert Ostaev also came there. He found his father among the killed, but his mother was neither among the killed, nor among the alive.
"As it turned out, she survived. When the Georgians were no longer heard, she jumped out of the car and ran home through Zar. According to her story, father was instantly overtaken by heavy fire, and he shielded her with himself. She heard the conversation of the Georgians "Chkara, chkara! (Faster, faster)." The Georgians brutally shot the people and ran away. There were bullet shavings on my mother's arms and eyebrows. She was wearing a shawl that day, which also had traces of shavings. This shawl is still kept, lying wrapped up," he said.
Robert's mother Shura Dyakonova (Ostaeva), according to her son, has never been to the place where the monument to the victims of the Zar tragedy was erected and mourning events are held, since these are painful memories for her.
Memories of a father
Ostaev's parents lived in the village of Sokhta. According to Ostaev, his father was working for about 30 years in the village council, was the chairman of the Kemulta village council.
Ostaev remembered his father as a brave and courageous man, a patriot to the core .
He has recalled a funny story about how one day his father unexpectedly secretly came to him in Karabakh when Robert was serving there.
"I was serving Karabakh, in the reconnaissance battalion. It so happened that my service coincided with the beginning of the Karabakh war. My father then left the village, saying that he was going to the city to visit the children. In the city he said that he was returning to the village, but he went to me. To get to me, he overcame a long way. From Tskhinval he went to Tbilisi, from there to Yerevan, from Yerevan to Sadarak (this is an Armenian village), then to Yerakhsk (an Azerbaijani village). Between these settlements there was a checkpoint surrounded by the military. The father approached the post where the Armenians stood and asked him to let him through. Those, of course, refused him, saying, he will be killed. He did not obey and went through the checkpoint on foot," recalls Ostaev.
Ostaev's father was walking all day long to get to his son.
"Of course, there was no transport, nothing by which he could get. As he later told me, in between he slept on a bench. It's amazing that nothing happened to him. Then there was a difficult situation. The orderly came up to me and said that my father had come to me. I got angry and tried to kick him out, warning him not to joke like that again. But he urged me to come out and have a look. I went out, I saw my father, I was shocked. I asked what he was doing here, to which he replied that he had come to visit me. He surprised all the employees with his, one might say, reckless act," said Ostaev.
Robert put his father in an armored personnel carrier, drove him straight to the Yerevan airport and sent him home. Returning home, the father told the family where he was, but they did not believe him.
As it turned out later, Robert's colleague sent a letter to his family that he was wounded.
According to Robert, his father did not show the letter to anyone and immediately went to visit him. Robert then got into a shootout at the checkpoint. He was hit, but he was wearing a bulletproof vest, and that saved him.
Robert has many stories about his father. He was a hardworking and very kind person," said Robert. But the Georgians did not let him enjoy his father's care, they took from him the most precious thing in such a cruel way.
Авторство: