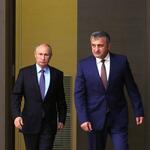 South Ossetia is an important partner and ally of Russia, Vladimir Putin said after talks with Anatoly Bibilov.
During today's meeting of the leaders of Russia and South Ossetia, the sides exchanged views on topical issues of regional issues and also discussed various aspects of bilateral cooperation.
"We agreed to coordinate more closely the steps in counteraction to security challenges and threats in Transcaucasia, as well as continue the most intimate interaction in the fight against terrorism and organized crime," - the President of the Russian Federation said.