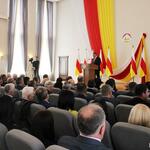 South Ossetia intends to bring the historical truth about the Ossetian genocide as widely as possible to the international community, President of the Republic Anatoly Bibilov said on Wednesday, delivering a message to the people and parliament.
The republic, according to the head of state, will involve Ossetian diasporas in this work, cooperation with which has reached a new level in recent years.
"I believe that the years of repression and national suppression of Ossetians by the Georgian state and society for decades, ethnic cleansing of Ossetians and armed aggression of Georgia against South Ossetia in 1989-1992, in 2004 and 2008 were a direct consequence of the fact that for many years, the truth about the 1920 genocide was hushed up, and the perpetrators were not punished, "the head of state said.
The activity of South Ossetia in the international field, the president notes, provokes a nervous reaction in Georgia, "where they begin to realize the futility of a long-term policy to block the international contacts of South Ossetia."
"It is possible that the transition of the Georgian authorities to a policy of provocations is directly related to Tbilisi's fears about the collapse of the so-called" non-recognition "policy. However, Georgia will not be able, through an escalation of tension, to weaken our activity in the international arena, "Bibilov said in a message.
South Ossetia, he said, intends to further increase the intensity of work to uphold its national interests, establish new ties with foreign countries in various regions of the world - the process of recognizing South Ossetia's independence is irreversible "and we are all witnesses of its progressive advancement".