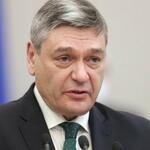 The solution to the issue of including South Ossetia into Russia will require taking into account all factors, including the geopolitical situation, said Andrei Rudenko, Deputy Foreign Minister of the Russian Federation.
"The issue of unification will require the participation of both parties. We will first look at how South Ossetian citizens will vote when the referendum takes place, and accordingly we will expect a reaction of the Russian Federation," Rudenko said, speaking at the Russian State Duma on Thursday.
"Here it is necessary to take into account the whole set of factors, including the current geopolitical situation, the question of the timeliness and expediency of this decision today," he added.
According to the Deputy Minister, Russia "will be following" how the preparations for the referendum are going on in South Ossetia.