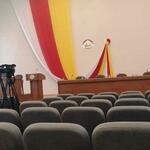 The session of the South Ossetian Parliament, at which the issue of giving consent to the President to appoint Konstantin Dzhussoev as Prime Minister of the Republic, is scheduled for Friday at 14.00, the press service of the Parliament told the IA "Res"
"Meetings of the presidium and parliamentary sessions are scheduled for tomorrow. The first item on the agenda of the session is the issue of dismissal of Prosecutor General Magomed Bagaev. In total, six issues were submitted to the meeting, including the release of the CEC member Timur Kokoity, as well as the report of the National Bank of the Republic," the press service said.
It should be reminded that on June 8 President of South Ossetia Alan Gagloev submitted Konstantin Dzhussoev's candidacy for the post of the Republic's government Chairman for approval to the Parliament.
On May 24, the government of South Ossetia resigned its powers in connection with the inauguration of President Alan Gagloev. According to the Constitution of South Ossetia, the President appoints the Prime Minister with the consent of the Parliament.
"In accordance with paragraph 5 of Article 50 of the Constitution of the Republic of South Ossetia, I submit for approval by the Parliament of the Republic of South Ossetia the candidacy of Konstantin Khasanovich Dzhussoev for appointment as Chairman of the government of the Republic of South Ossetia," the President's letter to the Parliament Chairman Alan Tadtaev says.
Dzhussoev is 55 years old, he is a native of South Ossetia. General Director of the construction company "Megapolis". He headed the construction of housing and civil, commercial and social facilities, as well as the construction of significant facilities within the framework of the Russian investment program to promote the socio-economic development of South Ossetia.