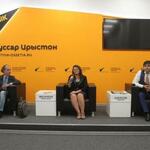 According to the representative of South Ossetia in Italy, Mauro Murgia, Europeans think that Georgians in South Ossetia are oppressed. This Murgia told journalists at the press center of Sputnik South Ossetia.
"Recently I have visited Leningor district of South Ossetia and saw that Georgians live in the Republic peacefully, and no one terrorizes or oppresses them," he said. "Europe does not know the truth; Russia has not occupied the territory of Georgia."
Mauro Murgia has stressed that the friendship between South Ossetia and Italy is of immense political importance.
In his opinion, due to the representative office of South Ossetia in Rome, people learn more about the culture of Ossetians and want to see the sights of the Republic.
Director of the Conservatory of Pesaro Francesca Matachena has noted that she wants to continue and develop socio-cultural relations between the two Republics.
"I am happy that I met such talented musicians as Sarmat Kabisov and Konstantin Dudaev, they represented South Ossetia with dignity," Matachena said.
Matachena has invited the talented South Ossetian young people to Italy, noting that "for participation in the National Song Contest there will be a selection".
For his part, Sarmat Kabisov thanked the leadership of South Ossetia and Francesca Matachena for the opportunity of internship in such a beautiful city as Pesaro.
"During my stay in the Italian city we learned a saw a lot," the young musician said.
Last year the representatives of the music school named after Felix Alborov had the opportunity to go on an internship in Italy. Among the participants were Sarmat Kabisov and Konstantin Dudaev. The trip has become possible by signing an agreement between the Ministry of Culture of the RSO and the Italian Foreign Ministry's mission.