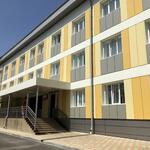 As of the morning of December 24, 78 patients diagnosed with COVID-19 are being treated in the "red zones" of the Republican Multidisciplinary Medical Center (RMMC) of South Ossetia. This was reported to IA "Res" on Thursday by the chief infectious disease specialist of the Republic, Eleonora Dzhioeva.
"Currently,40 patients are being treated in the infectious diseases building, 38 in the building of the children's hospital. Three are in the intensive care unit, two of them are in an extremely severe condition," the doctor said.
Over the past day, seven patients were admitted to the "red zone" of the hospital, and another seven people were discharged from the hospital for outpatient follow-up care.
According to the doctor, the admission and triage department of the RMMC on Wednesday received 31 patients, four people were hospitalized.
Sixteen patients were tested in the admission and triage center, six of them received referrals for computed tomography of the chest," she said.
The chief infectious disease specialist of the Republic appealed to the population to observe all preventive measures to prevent the spread of the new coronavirus infection.
It should be noted that 102 studies conducted in South Ossetia over the past day revealed 34 new cases of coronavirus infection in citizens.
The number of cases in the republic since mid-September has reached 2206. 44 more people have been removed from the register with a negative COVID-19 test, a total of 1377 citizens have recovered. So far, 829 people remain under medical supervision.
During the pandemic, 12794 studies were carried out in the PCR laboratory of the South Ossetian Consumer Supervision Committee.