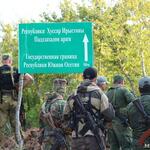 In the village of Ergnet bordering South Ossetia and Georgia, a meeting is being held within the framework of the Incident Prevention and Response Mechanisms (IPRM). The main topic of discussion will be the incidents that occurred on both sides of the state border of the two states, the Office of the Plenipotentiary for Post-Conflict Settlement reported.
As noted in the department, the agenda practically remains the same, and during the dialogue security issues, violations of the state border will be discussed, as well as the overview of the epidemiological situation in the region and the general situation will be made.
After the dialogue is over, the head of the South Ossetian delegation Yegor Kochiev will give a detailed commentary on the results of the meeting.
Meetings in the IPRM format are held within the framework of the Geneva discussions on security in the Caucasus. The dialogue is attended by representatives of South Ossetia, Russia, Georgia, the European Union and the OSCE.
Each time, the IPRM format is highly appreciated by the co-chairs of the Geneva discussions, and at the last meeting, which took place at the end of last week, they also noted the importance of the mechanism itself and the relevance of the Hotline operating under the IPRM in maintaining stability and resolving many border issues.