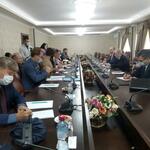 The meeting of the EU, UN and the OSCE co-chairs of the Geneva discussions on security in Transcaucasia with the South Ossetian delegation is underway in Tskhinval on Thursday.
"We are meeting on the eve of the next round of Geneva discussions. We have repeatedly expressed high assessments of the existing international format, emphasizing its importance primarily in terms of strengthening the existing security structure. I would like to note the return of these meetings to a lively format after a rather long period of online conferences.
Despite the difficulties with the coronavirus, all parties showed their commitment to the Geneva process, "said Konstantin Kochiev, State Adviser to President of South Ossetia.
According to him, active work is being carried out with the Russian party to address security issues related to the coronavirus.
"During the time that has passed since the previous meeting, everyone had the opportunity to analyze the materials of the information session held in Geneva. Today it will be useful to exchange views, discuss the state and development of the Geneva process, primarily security issues, reaching agreements on the non-use of force and strengthening the existing structure security, "Kochiev emphasized.
The EU Co-Chair Toivo Klaar, in turn, conveyed good wishes to the head of the South Ossetian delegation in the IPRM format Murat Dzhioev, and also expressed condolences on the death of Boris Chochiev and Dina Alborova, with whom they had a chance to work fruitfully.
"I hope we will have a good session. We will discuss issues that are important to us," he said.
Then the meeting continued without the media.
The co-chairs will also meet with the President of the Republic Anatoly Bibilov.
The Geneva discussions on Transcaucasia are the only platform for dialogue between Sukhum, Tskhinval and Tbilisi, based on the agreements between the Presidents of the Russian Federation and France, reached after the act of Georgia's aggression in August 2008. Representatives of South Ossetia, Abkhazia, Georgia, Russia and the United States, as well as the UN, the European Union and the OSCE observers, are also taking part in the Geneva talks.
The main goal of the discussions is the signing of a legally binding agreement on the non-use of force between South Ossetia and Georgia, Abkhazia and Georgia.