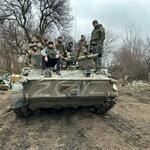 Artists of the South Ossetian State Song and Dance Group "Simd" visited the zone of the special military operation in Ukraine. They handed over to the Ossetian fighters a humanitarian cargo, purchased with the funds raised by the "Simd" team and other organizations subordinate to the Ministry of Culture. The press service of the Ministry of Culture of South Ossetia reports this on its Telegram channel.
"The zone of the special military operation was visited by Pavel Tekhov, Vadim Sanakoev and Sarmat Dudayev. They handed over military masks, winter tactical knee pads and elbow pads, military karemats, insulated winter insoles, lanterns to the soldiers," the press service said. According to Pavel Tekhov, the fighters on the front line were very happy with the artists.
"There are many our guys on the front line, they met us very well. They have a fighting spirit, they live as one family," Techov said. Virtuoso Sarmat Dudayev took a musical instrument with him and pleased the fighters with his performance.