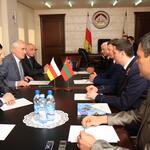 South Ossetian President Leonid Tibilov has received a delegation of the Pridnestrovian Moldavian Republic (PMR).
The meeting was attended by the head of the Presidential Executive Office Alan Dzhioev, the head of the Official Representative of the PMR in South Ossetia Egor Kochiev, Deputy Chairman of the government of Transnistria, the head of the government of the PMR Alexander Kisnichan, the Chairman of the public chamber of the PMR Sergey Smerchansky, the head of the Department on the CIS countries Affairs of the Foreign Minister of the Republic Alexander Stetsyuk.
At the beginning of the meeting, Leonid Tibilov congratulated the guests on the 25th anniversary of the Pridnestrovian Moldavian Republic and wished all the people of the PMR peace, success and prosperity.
"South Ossetia and the Pridnestrovian Moldavian Republic are linked by the same fate of nations - the president said. - In the future, we will be strengthening relations between our countries. Today's celebration is a milestone event not only in the life of the Pridnestrovian Moldavian Republic, but also all the countries which have gone a long way to independence. "
The head of the PMR delegation Alexander Kisnichan stressed the importance of relations between the peoples of South Ossetia and Transnistria.
"The close relationship between the two countries and a long-standing friendship between our peoples tell a lot - said Kisnichan.- We had the same hard life for all these years and our peoples are united by the desire to live in peace and independence."
Alexander Kisnichan presented Leonid Tibilov with a state award of the PMR, an Order "For merits».
Leonid Tibilov presented to representatives of the delegation silver coins issued in commemoration of the 155th anniversary of a great Ossetian poet, playwright, journalist, social activist Kosta Khetagurov.