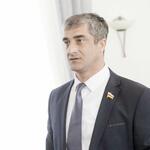 South Ossetia is the independent state and will be developing in its own way, "Amiran Dyakonov, head of the Parliamentary Committee on Culture, Religion and Media, said in a comment to the IA "Res", responding to the statement by NATO Secretary General Jens Stoltenberg about supporting the territorial integrity of Georgia, its sovereignty within internationally recognized borders.
"It is clear that for the NATO countries Georgia is an instrument of their geopolitical ambitions. The question is that South Ossetia has not been a part of Georgia for a long time,"Dyakonov said.
He has stressed that South Ossetia is not on the way with Georgia.
"South Ossetia has an impeccable historical and legal basis for its independence, and Stoltenberg, like other Western leaders, can keep his opinion to himself. South Ossetia is the independent state," the parliamentarian said.
Dyakonov has noted that the NATO charter does not allow states that have territorial problems to join it.
"The road to NATO is closed for Georgia within the borders of the Georgian SSR. Without South Ossetia and Abkhazia, Russia can join anywhere," he concluded.