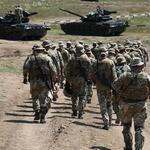 The NATO military exercises on the territory of Georgia with the participation of the Georgian armed forces, including the current ones, are a threat to the security and stability of the region as a whole, this is how the South Ossetian delegation regards them at the Geneva discussions every time, said Murat Dzhioev, Presidential Envoy for post-conflict settlement of South Ossetia.
The next (for the tenth time) NATO military exercises Agile Spirit 2021 are taking place on the territory of Georgia. The conduct of these exercises, held under the motto "Strength in Partnership", cannot but arouse caution in South Ossetia, in respect of which the Georgian elite does not hide its revanchist and aggressive intentions ...
"The position of South Ossetia regarding NATO exercises on the territory of Georgia is stated in the official statement of the Ministry of Foreign Affairs of the Republic, where what is going on is regarded as deliberate attempts to undermine the structure of regional stability and security that has developed in recent years," Murat Dzhioev commented on the Agile Spirit 2021 exercise at the request of the news agency "Res ".
According to him, against the background of the refusal of the Georgian authorities to work on signing legally binding documents on the non-use of force with South Ossetia and Abkhazia, against the background of the continuing revanchist and aggressive statements of the Georgian elite regarding South Ossetia and, moreover, the political statements of the NATO leadership regarding the sovereign Russian - South Ossetian relations, further and purposeful strengthening of NATO's positions in Georgia, of course, is perceived as a direct threat to security and stability.
"After all, not only the territory of Georgia is turning into a training ground for NATO forces, but, above all, these exercises prepare and equip the Georgian army. Thus, in the early 2000s, the American project "Training and Equipment" was being implemented in Georgia. And although the US representatives stated that the Georgian troops being trained under this program would not participate in conflicts, in 2004 they were involved in another armed aggression against South Ossetia, "the Plenipotentiary said.
Dzhioev has added, that military exercises are a practice of combat operations on the ground, this is an experience. "If now one of the points of conducting joint NATO-Georgia exercises is located in Western Georgia, in relative proximity to the borders with Abkhazia, then two years ago the NATO exercises affected the territories of Georgia near the state border between the Republic of South Ossetia and Georgia. In particular, the NATO military equipment was in the village of Tsitsagiantkari, located only about a kilometer from the state border, "the politician said.
In this regard, the Plenipotentiary reminded, that the South Ossetian delegation then made an official protest at the round of the Geneva discussions on security in Transcaucasia.