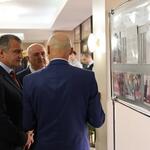 A photo-documentary exhibition dedicated to the 90th birthday of a prominent statesman of the Russian Federation Yevgeny Primakov opened in the capital of South Ossetia. The exposition was prepared by the Russian Embassy in South Ossetia.
The event was attended by President of South Ossetia Anatoly Bibilov, Ambassador of the Russian Federation to the Republic Marat Kulakhmetov, Minister of Foreign Affairs of the Republic Dmitry Medoev and others.
During his speech, Marat Kulakhmetov spoke about the life and work of the politician and public figure Yevgeny Primakov.