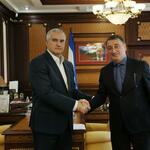 Prime Minister of South Ossetia Konstantin Dzhussoev met on Friday with the head of the Republic of Crimea Sergey Aksyonov as part of a two-day working visit of the South Ossetian delegation to Crimea.
This was reported by the press service of the government.
The agenda of the meeting has included interregional issues related to the development of trade, economic and cultural ties between South Ossetia and Crimea.