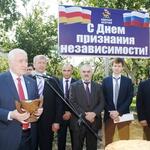 Today, August 26, festive events dedicated to the Day of Recognition of the Independence of South Ossetia began with theatrical procession– the March of the Grateful "Thank you, Russia." The event was attended by the leadership of the Republic, led by President Leonid Tibilov, representatives of the parliament headed by Speaker Anatoly Bibilov, as well as members of the public.
At the beginning of the event the President congratulated the gathered and wished them peace and prosperity.
"Today we have gathered here to celebrate one of the most significant events in the history of our nation - the Day of Recognition of the independence of South Ossetia - said Tibilov. - For six years, we have been building our Republic, strengthening and developing it, as evidenced by the implementation of the 2014 Investment Program to promote socio-economic development of the Republic of South Ossetia . Today, each of us is thankful to the Great Russia, the leadership of the Russian Federation for the recognition of our independence. Long live South Ossetia! Long live our heroic people! ".
Defense Minister Valery Yakhnovets has also congratulated the people of South Ossetia,
"For two decades the people had been striving for this victory. The losses were huge, inhumane living conditions, but the results met all expectations - said Yakhnovets. – The Republic of South Ossetia has gained the independence - Russia recognized it. May God give the citizens of South Ossetia peace and prosperity!"
The event continued with performances of dance groups of South Ossetia.